The Product
: Revlon PhotoReady 3D Volume Mascara
The Review
: I was kind of hoping to find a budget version of
Benefit's They're Real! Mascara
, and this Revlon mascara had a really similar brush with the little spikey bristles at the end. So, I bought that shiz. And now I have a love/hate relationship with it.
Here's the positive: This mascara will give you really great separation and length. It's fast-drying. It doesn't flake and it stays on nicely all day long. It makes my eyelashes look very "there," but it's not so crazy-dramatic that I can't wear it on sparse makeup days. There are day mascaras and night mascaras, and I feel like this one is a happy-medium of both. Plus, it doesn't clump too badly, when it's behaving.
Here's the negative: Some mascaras have tubes with narrow openings that scrape away excess product whenever you remove the wand. Not so with this one. Sometimes, I pull out the wand and am faced with an ungodly gloopy mess of a brush with huge chunks of mascara all over it. And no matter what I try, the end bristles that are supposed to be used on the inner corner lashes turn into a blob of mascara and are completely unusable. Here's a pic I found of what the brush looks like on a good day: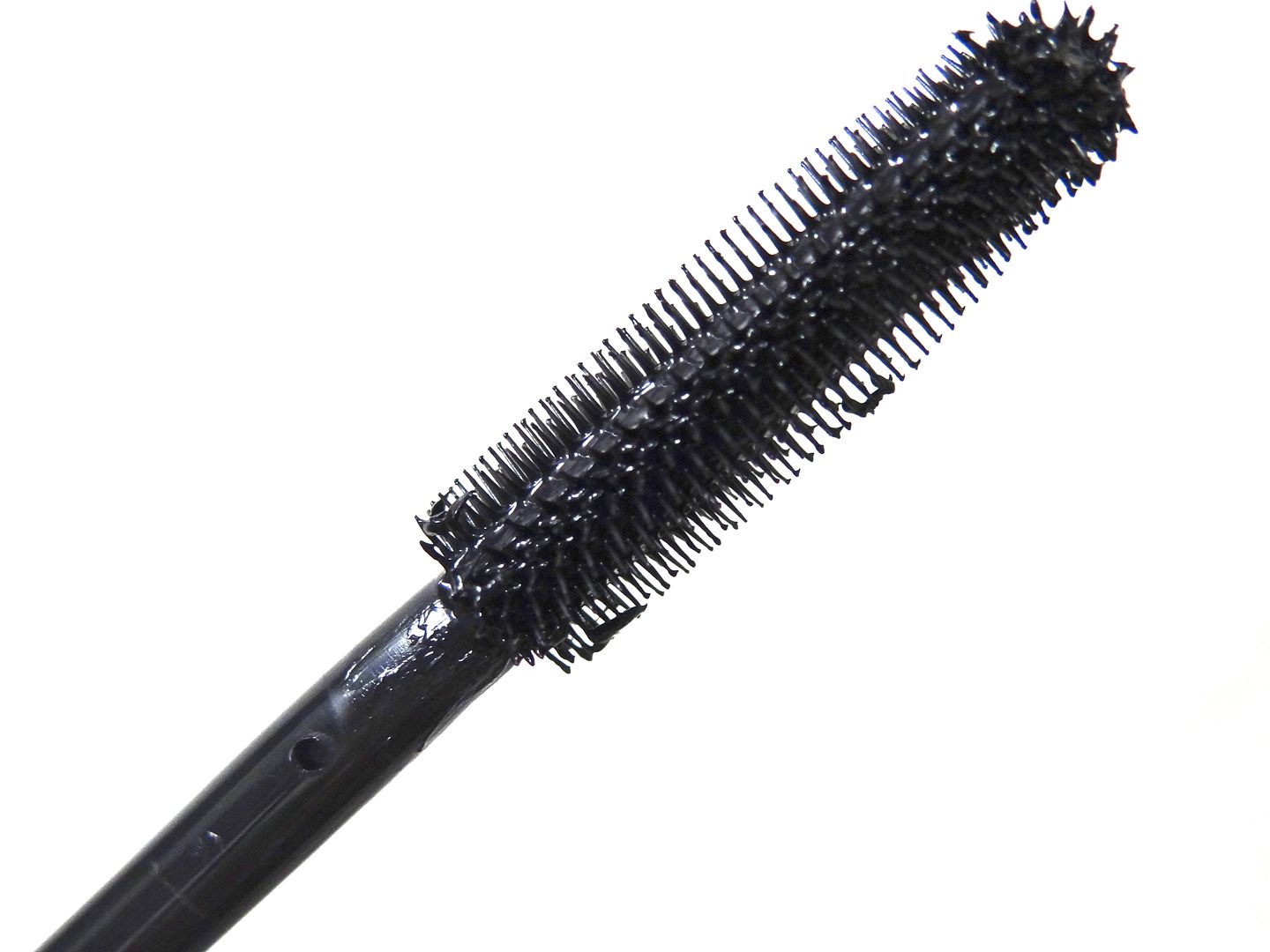 Still kinda clumpy, but it could be a LOT worse...
Also, the formula won't hold a curl to save it's life. I always curl my lashes pre-mascara, and this stuff makes the curl disappear almost every time. LAME. I mean, they still look nice, but they're just not curled and perfect. You also get very little volume, which sucks because that's what the company claims this mascara will provide. And don't touch your lashes after it's applied, because they'll start sticking together. Last but not least, there are strips on the brush without any bristles, so you have to double check and make sure your lashes are lined up properly, which I find annoying.
Overall, if I manage to get the brush de-clumped, super-curl my lashes to make up for the curl-killing aspect of the formula, and don't mess with my lashes after application, the ending effect is pretty good. However, this product is too high-maintenance for me to endorse. I'd suggest saving your money. Oh, and it's not even close to being a good copy-cat of Benefit's They're Real. Darn...
Rated Beauty Grade
: C+
Price
: App. $8
Where to Purchase
: Drugstores