And now for something completely different...
I am having so much fun looking at all the gorgeous holiday offerings from the big-name cosmetics companies! When it comes to the holidays, I love seeing who comes up with the most innovative and interesting cosmetic gift ideas. Here are some of my favorites:
# 1. NARS Naguata Kabuki Set
:
NARS wins for originality. Hands down. The kabuki themed gift collection is so great, I almost put every product in this post. Isn't this brush set gorgeous? And so creative! I mean, it's not every day you find makeup brushes that look like works of art themselves. These are almost too pretty to use. Almost.
# 2. NARS Hanamichi Eyeshadow Palette:
I'm really, really in love with the kabuki theme of this collection. It's unique. It's classy. The colors are stunning. Look at the detail on this eyeshadow! And it comes with a gorgeous eyeshadow brush! I am so sold. I have no idea when I'll ever wear red eyeshadow, but I don't care. I can use all the other colors and just leave the red part intact. Really, I just want it so I can stare at the pretty flowers.
#3. MAC Dazzlesphere
I think this is a cute idea. I buy eyeshadow quads all the time, but none of them have ever come in a cute little ornament. But is it an ornament? I can't really tell. I do think it would be a cute stocking stuffer, albeit a pricey one.
#4: Guerlain Parure du Nuit Powder Compact
Guerlain Parure du Nuit Powder, $67
For whatever reason, makeup companies go insane over highlighting products for the holiday season. I guess they want your face to sparkle like a cracked out Christmas tree? I'm not complaining, because the limited edition highlighters are some of the most beautiful products you can find. This highlighting powder/blush combo from Guerlain is my favorite thus far. The peacock feather design is so lovely and elegant, and I'm fascinated by the edition of teal. Teal! In a highlighter/blush and not an eyeshadow quad, no less. Definitely the most interesting color combination I've seen in a highlighter, and this is the most innovative of the face powders this season, in my opinion.
#5. Smashbox Click You're It Holiday Palette
I adore all the colors Smashbox chose for this palette. They're so vibrant, rich, and there's enough variety that you can come up with some really creative looks for the holidays. Plus, it comes with my favorite eyeshadow primer! Yay.

#6. L'Occitane Hand Cream Bouquet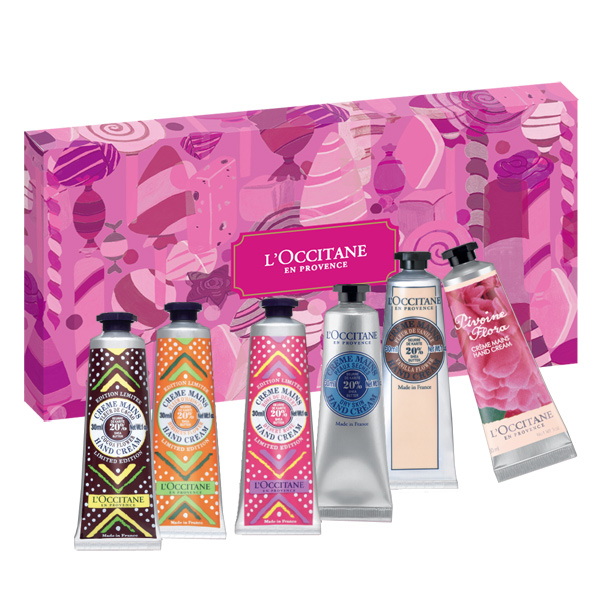 L'Occitane Hand Cream Bouquet, $50
I adore L'Occitane's
Shea Butter Hand Cream
. It's one of the few products of which I want a life-time supply, because I never want to be without it. Therefore, I am 99.9% sure I was adore this set of various hand cream flavors. Plus, all of the scents (Cocoa Flower, Desert Rose, Hibiscus Flower, Pivoine Flora, Shea Butter and Vanilla) sound amazing.
#7. Yves Saint Laurent Holiday Golden Gloss Trio
Ok, so I'm not actually sure that I'd want this. I tend to run away from putting lavender colors on my lips, but I'm assuming that once this stuff is on, you can't tell there's much of a tint. If that's the case, then I'd want it. Either way, it's making the list because its an interesting choice of color and the gloss has 24 carat gold in it. I just think that's nifty.

And I think that's enough for now. I'm sure as more cosmetic companies bust out the crazy holiday products, I'll have more eyecatching, pricey, limited edition thingers to show you, but until then, I'm going to call it a morning and get back to helping banks figure out how to turn on their computers. Because my job is glamorous like that.